For those of you who only know me in my marketing guise, welcome.
This is your first viewing of me as a massive rugby union fan.  I like to think of myself as a very successful spectator – I am an all-in-on-the edge-of-my-seat-don't-talk-to-me-now sort of fan. I love the forwards (flashy backs, who are they?!), the grit and determination of a pick-and-drive, the awesome power of a rolling maul.
Come with me as I look at the 2016 Super Rugby season, starting Friday.
Expanded competition
It seems so long ago that Super 12 was a thing.  This year sees the introduction of three new teams to the Super Rugby competition, making it Super 18, and a whole raft of changes that flow from this introduction.
Welcome to the Argentinian Jaguares.

Welcome to the Japanese Sunwolves.

Welcome (back) to the Southern Kings.
The Sunwolves and the Kings have had a fractured start to the competition with financial woes dogging the Kings (last playing in Super Rugby in 2013) and disarray in the coaching and playing ranks of the Sunwolves who didn't start pre-season training until late December, more than a month after all the other franchises.
However, they don't need to do much to have an on-par debut season: the Western Force won one match, drew two and lost 10 in 2006, while the Melbourne Rebels won three and lost 13 in their 2011 maiden season.
Excitingly, the introduction of the Kings might mean that the Queensland Reds don't finish dead last among all the conferences *tongue in cheek*.  Honestly though, I don't think our chances are as bad as all that.  More on that later.
The expanded competition means that Super Rugby ends up with four conferences in two groups (South African group and Australasian group) compared to the three conferences we had last year.
South Africa 01
South Africa 02
New Zealand
Australia
PS.  Who named the second group Australasian?  It is just Australia and New Zealand – Japan, which may have made the name relevant is playing in a South Africa conference.  Couldn't they have named it Newstralia or something?!

SANZAAR (note the extra A for Argentina [but where is Japan?!]) then threw things at the wall to see what stuck as they planned the draws.
Bear with me here:
Australian teams play each other once (either home or away) and then two of the four teams a second time, making it home and away for two of the four, and just home or away for the other two.  Six games.
We then play the NZ conference, each team. Five games.
We then play ONE of the SA conferences, each team.  Four games.
Plus the usual two byes.  
So, just remember – 6.  5.  4.  2.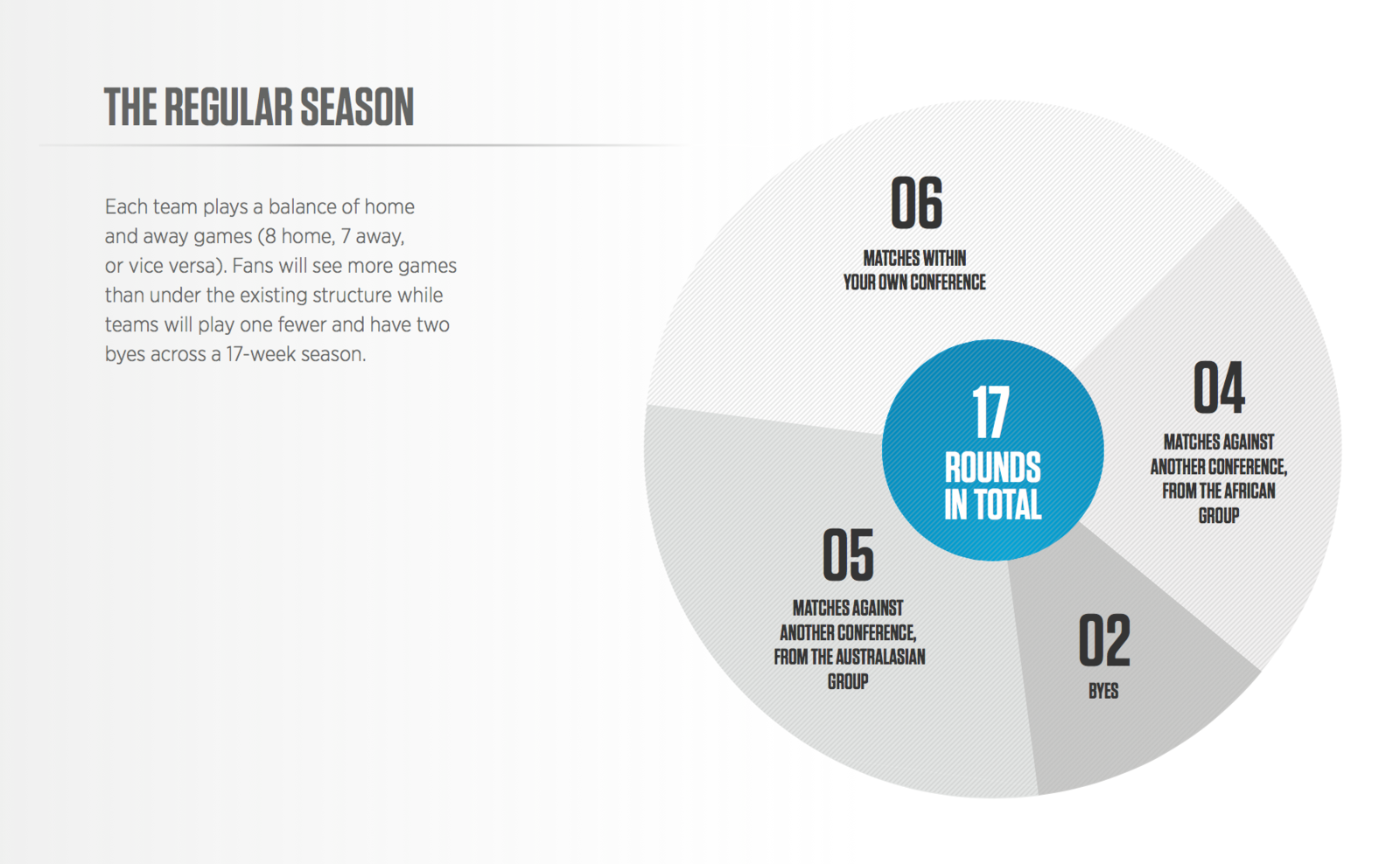 The Australian conference plays South Africa 01 – Bulls, Cheetahs, Stormers and the Sunwolves.
I think one of my favourite matches for the Queensland Reds will be our Round 13 clash with the Sunwolves – the Japanese fans came out in droves for Ayumu Goromaru in our trial matches, so to see him play a Japanese team, the atmosphere and support should be brilliant!
There are opponents and proponents of the expanded competition.  I see both sides, to a point.
I think that Australia has NEVER been able to support 5 teams so an expanded competition doesn't really affect us any more than we have been.  I think however that South African will struggle to support 6 teams (the Kings/Lions playoff is a case in point – wobbly rugby).
I love that other Southern Hemisphere teams have joined us – I think it strengthens rugby (and Southern Hemisphere dominance!).
I would love to see Island nations play in this competition, but with hefty travel demands (meaning dollars) and their key players already signed to every other rugby-playing nation, it is a very tough ask.
Perhaps we could look at a development fund?  Not right now … Australia would need free to air rights and dollars for that to come off, and to shove South Africa elsewhere.  They gobble up an extraordinary amount of the telecast deals but can't win Super Rugby championships.   Or matches against Japan, clearly.  Months later, this is still gold.
Australia, New Zealand, Japan and Island nations … now that would be an extended competition worth watching (without getting up at 1am in the morning.)
Next up is a look at the changes in rules, points and coaching appointments.